Available from TDS Health, BoardVitals leading board prep question bank company and CME provider, also has a mobile app for iOS and Android. This addition to the BoardVitals platform allows users to take their studying with them on the go, with features designed to aid the board preparation process.
With more than 60 question bank specialties available, BoardVitals allows users to study for every subject. This new mobile app provides users with new ways to enhance their studying and replicate test conditions before sitting for their boards.
The quizzes your students have created on the boardvitals platform will sync with their mobile app, so if they start a quiz on the site, they can continue or finish it within the app. Please see below for the features of the BoardVitals Medical Exam Prep Mobile App.
Easy to Use Quiz Tools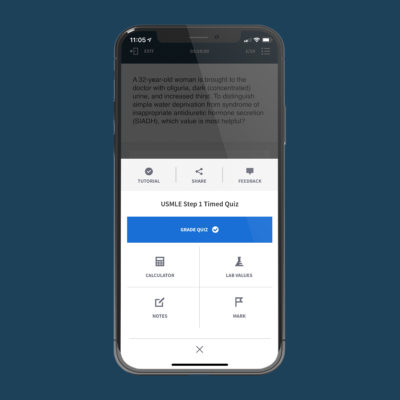 The same test features available to your students on the day of their exam are available on BoardVitals:
Highlight key points of each question
Strikeout answer choices to eliminate distractors
Mark a question for later review
Make a note for a specific question
Refer to lab values without leaving the app
Use the calculator for calculations
Submit question feedback to the BoardVitals medical content team
Offline Access Available Everywhere
The BoardVitals mobile app offers your users a convenient offline option. Whether they are on the plane or on the subway, your students can download quizzes so they can study anywhere, any time, with or without internet access. Before they lose access to an internet connection, they can download their quizzes for offline access. Once they get back online, their questions and answers will sync.
In-Depth Analytics include:
Answer Response Time lets users know how quickly they need to move to get through all questions. This metric is available for individual questions, subjects, and quizzes.
The BoardVitals app Peer Rank metric shows users how they compare to their peers who are currently using BoardVitals to study for the same exam.
Comprehensive evidence-based explanations are augmented with Peer Comparisons so users can see exactly how other users answered the same question, with percentages for each answer choice.
The performance timeline allows users to see a visual representation of their performance over time, or drill down to only examine a particular date range.
Users can custom their quizzes in several different test types, including the new untimed test option. The four test types are:
Study Mode – Study mode is similar to an open book quiz without a time limit. In this quiz environment, users can read the explanations as they go and practice at their own pace.
Test (Timed) – To quasi-simulate the pressure of a test environment, Test (Timed) Mode allows users to study without revealing the correct answers and explanations until the quiz has been completed.
Test (Untimed) NEW! – Test (Untimed) Mode is like taking a closed book quiz without the pressure of a time limit. Answers and explanations are not available during the quiz.
NCLEX® CAT TESTING MODE (NCLEX® question bank access only)
For NCLEX® students, users can choose to practice in a Computer Adaptive Test mode (CAT). Computer adaptive testing adjusts to their abilities – providing them with either an easier or harder question depending on how they answered the previous question. Now, not only can your nursing students create a full-length CAT exam, they can also pick the exact subject breakdown of it, including by body systems and dimensions. This gives users the power to focus on topics where they need improvement, or boost their confidence in their strongest subjects. Available for BoardVitals NCLEX® question bank subscriptions only.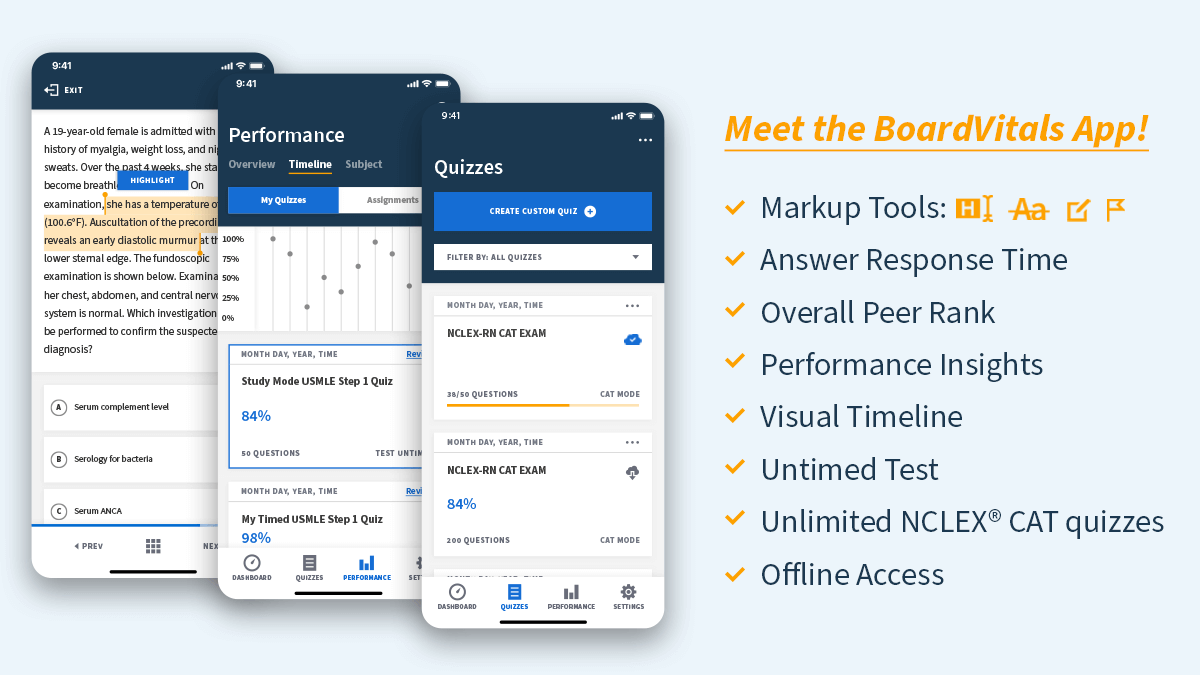 Interested in learning more about BoardVitals for your institution? Please call 800-901-5494 or click here to speak with a TDS Health Team Member today.